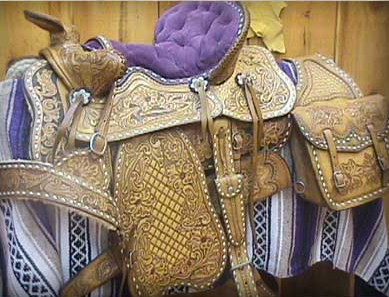 Custom Made Saddles
Not just for horses anymore!
The parade saddle shown took Richard 11 weeks to hand-carve and put together starting with just the bare antique frame. It has a heavy rawhide stretched over the frame for added strength, and is fully sheepskin lined. This saddle comes with matching hand carved saddle bags, rifle scabbard, breast plate, flank cinch, hoof pick case and bridle. This fine craftsmanship may be applied to purses, wallets, rifle scabbards, knife cases and bridles, purses, wallets, or anything else made of leather.   
We also make custom rocking horse saddles and tack in english or western styles. Have your antique saddle restored back to working condition too, no matter what the age. We make all of our own  western tack and harness for horses of all shapes and sizes. Some english tack is made here, plus we repair all of the above!!